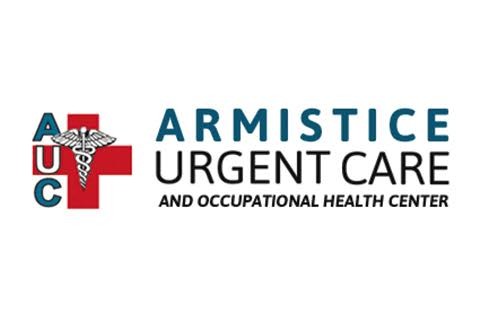 Armistice Urgent Care


Company Description
If you are in need of a doctor, if your physician is away or unavailable and it is hours of waiting in the emergency room, then Armistice Urgent Care & Occupational Health is your walk-in clinic alternative. An appointment is never needed, and we are always there when you need us. Our mission is to treat you as we would want to be treated and make your visit as comfortable as possible in a difficult time.
Armistice Urgent Care & Occupational Health works with local employers in Rhode Island ( RI ) and nearby Massachusetts ( MA ) to help with their occupational healthcare needs. Our extended weekday hours and weekend availability allow us to care for your injured employees; from 9 AM to 9 PM Monday through Friday, and 9 AM to 5 PM on Saturdays and Sundays. We are always capable of caring for Urgent matters on a walk-in basis. However, injuries requiring to follow up or other planned events are given appointments to limit employee wait times.
Here at Armistice Urgent Care & Occupational Health, we perform the testing and physicals for your employees. We do pre-employment, respirator and specialty physicals along with DOT physicals are performed by DOT certified providers. We perform DOT & Non-DOT urine drug screens, hair collections, breath alcohol (BAT) and thoroughly understand the regulations. Hearing test are also available, and we can provide immunizations, flu shots, and flu shot clinics and other wellness services. The entire spectrum of Occupational Health Care can be found at Armistice Urgent Care.
Armistice Urgent Care & Occupational Health is a walk-in clinic designed for your urgent medical needs. A physician is on duty all the time, Monday through Friday 9 AM to 9 PM, and Saturday and Sunday 9 AM to 5 PM, with no appointment, required. Our helpful and courteous staff will make you feel comfortable during your time of medical distress. We treat most medical problems including pneumonia, allergies, coughs, colds, flu, sinus infections, etc., and injuries including fractures, sprains, bruises, lacerations, and burns. We provide many adult immunizations (please call for availability) and are equipped with x-ray equipment and the ability to obtain samples for lab testing. Severe or critical medical emergencies will be swiftly and skillfully triaged and/or stabilized and sent to an emergency room if needed.
We also work with many local Rhode Island ( RI ) and nearby Massachusetts ( MA ) employers to help with their health care needs. More information is available on our Occupational Health page.
Categories
Business Services

Medical Services
Workers' Comp. Service

Employment Screening, Staffing, Services

Drug / Alcohol Testing / Collection
Workers' Comp Services
To Top